A.C.E.S. Program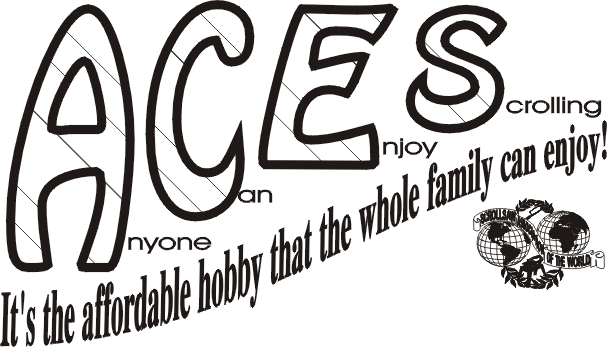 This program was presented a the Branson Picnic and the Wisc. Picnic. in 2004
So what is this new program designed to do.
We know that there are many youth programs out there that do not know about the joys of scrollsawing. Some of these would be Boy Scouts, Cub Scouts, Girl Scouts, church groups, 4H, and too many more to list. We also could include retirement homes, and senior centers. Anywhere there is a group that might have people interested in scrollsawing.
This program makes it easy to give a half hour presentation to those groups, and anyone can do it with this program.
With the package you will get a 20 minute video to show. By the time you introduce yourself, play the video, and answer questions you have completed the half hour program. It's that easy. There are options that you could meet then with smaller groups in your shop to give them a real hands on look at scrollsawing. An outline for the topics you may want to cover is included in the package. Also patterns used in the video are included.
The idea is to let as many people out there know about the fun and relaxation scrolling can provide. It also shows the youths a way to spend time at a rewarding hobby. And what better way is there for you to get out and enjoy meeting new people. It is all going to be a win win situation.
ACES Seminar Outline
These types of demos are what will help to find the next generation of scrollers. This introduction removes much of the mystery of this very old hobby, fear of cutting with a scrollsaw, and makes getting started faster or easier for the inexperienced user.
Explain a little about who you are and how you became involved in being there to talk to the group about scrollsawing.
Remember to point out that this is an inexpensive hobby to start into as far a woodworking goes. This would be a great hobby for the youths and parents to get involved in together. If there are younger siblings in the home this is a great way for the older ones to cut and the younger ones will have items to paint. Turn it into a family hobby.
Age has no bearing on ones ability to use a scrollsaw; seniors and youths alike can enrich their lives with this hobby. Grandparents cutting items for the grandkids to paint, supplementing their income with sales of items, and a hobby that reduces the stress of daily life.
Show the enclosed video.
If possible it would be nice to have a saw there that you could make a few simple cuts on. Maybe give a few of the attendees a chance to scroll with a hands on approach.
You will need to prepare some wood with patterns already attached for this. Use very simple patterns like hearts, stars, crosses, or maybe even a simple logo of the group you are speaking to. These are beginners and so their cutting skills may be a little poor. You want something they can complete in less than 10 minutes and take home with them. The "Look at what I did today" enthusiasm is what you are hoping to spark into action.
Answer questions about scrolling. Maybe include the minimum cost to get a saw and start.
If you would be willing and time available does not allow hands on, offer to meet with smaller groups and do more hands on type showing. This may include your entire scrollsaw club support to allow time and supplies for each participant to actually saw.
Some video clips :
More to come
What does it cost you:
This program has been approved by the board of S.A.W. so it is now available through S.A.W..
Right now we are working on a way to fund this program. But until funding is found we would still like to make this program available to you. For $9.50 you can receive this package by sending a check or money order.
Any question or comments on this program are welcome: ric47@scrollsaws.com
All material is copyrighted, but we encourage you to make extra copies of the video or handouts as needed. You will not be allowed to sell these but you can give them to others who would be willing to promote scrollsawing. I hope this is a way to get the program out to as many groups as possible with very little cost.
Send payments to:
SAW Aces Program
PO Box 340
116 East Lynn St
Botkins, OH 45306
or http://saw-online.com/program/aces.htm