Turned flowers
I found this video on You Tube and it looked like fun. http://uk.youtube.com/watch?v=JWWw5HHzvFw
My flowers are made from wood off a Smoke Tree. Now this is a ornamental tree my mother had in her yard, so it is not a common available wood.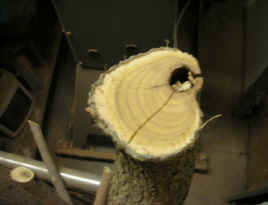 But what I like about it is that the center is this yellow color and is perfect for the flowers. I have turned a couple of pens, boxes and one bowl for a narly part of a broke off limb and the color just amazes me.
Here are the flowers
I have been turning small vases from mostly red cedar to put the flowers into.