Pen Turning
I have finally played at making some pens. I still don't find the pen making as much fun as the boxes.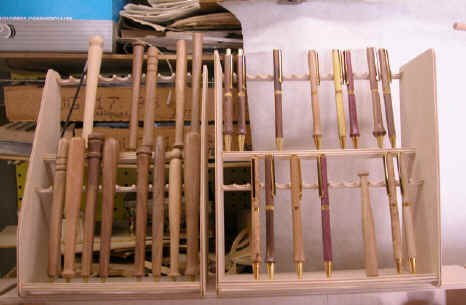 Another way to make pens is pull the center out of the standard Bic pen. Then turn baseball bats and drill a 5/32" hole, the inserts go right in. Easy and real cheap pens. Plus that is a way to use up a lot of 3/4" X 3/4" scraps that seem to pile up fast from other projects in the shop.
The drill I use is this one: http://www.mcmaster.com/#catalog/118/2450/=jw46yw Bottom of the page, Chip-Clearing High-Speed Steel Extended-Reach Drill Bits Chip-Clearing HSS Extended-Reach Drill Bit 5/32", 8" Overall Length, 5.7" Drill Depth
And eggs are an easy thing to do with the last bit if wood in the lathe not big enough for anything else.