Finals and Sanding Disc
I bought a drawer set just for final storage and sanding disc storage. I use my smaller pieces of wood to make finals and then store them in the drawers. I have them sorted by the size of the tenon on them. Notice the wood block on top of the cabinet. That is my hole gauge, after the final is turned I check tenon size to determine which drawer it is placed in. When I make a box or ornament I need a final for I just pull the drawer and look for the size, color, and shape to go with the project. Each drawer is sized close so if the hole is too large a different final in the drawer may fit tight.
I have placed little pads of Velcro on the drawer fronts with the sanding discs to hold the disc that I am using at the time. I have the 2" discs out in the photo. There are 3" disc in the lower drawers with the Velcro pads installed on those drawers too.
For my sheet sandpaper I have a rack on the other table. The paper on top is new paper. The cubby holes at the bottom are for the paper I am using. The paper is arranged by grit size.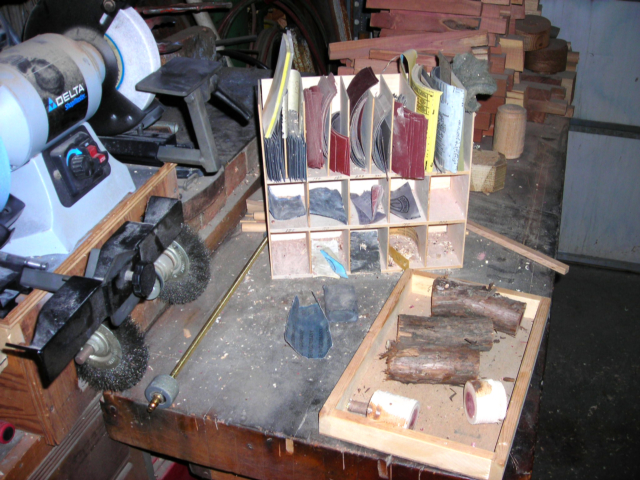 Made a new style of rack. The drawers are 5" wide and 7"deep, 2" tall. Then I store the sandpaper I am using is real handy on the top section. I think I will like this a lot more than the old style.